DEAD MAN'S FINGERS SPICED RUM GETS FRUITY
11 Sep 2020
Unconventional spiced rum brand, Dead Man's Fingers, is continuing its tropical journey with the launch of a new Mango Rum.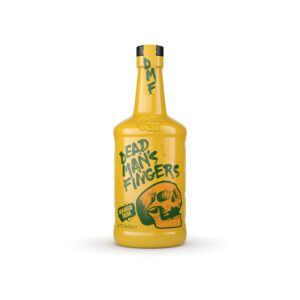 Since launching in 2018, the Dead Man's Fingers brand is now the no.1 premium rum brand contributing to total rum growth[1], delivering £3m YOY, demonstrating a significant sales opportunity for retailers.
Perfectly complimenting the brand's existing range of tropical flavours including Pineapple and Passionfruit, the new Mango Rum boasts the aroma of sweet mango with a touch of vanilla and the tang of citrus. A refreshing treat, it can be served simply with lemonade, or as part of a cocktail.
Sam Caulfield, Brand Manager for Dark Spirits at Halewood Artisanal Spirits said; "With the launch of Dead Man's Fingers Rum, we saw a gap in the market for flavoured rums which would appeal to experimental rum drinkers, and could be enjoyed as part of simple, at-home serves. The response to the brand and our latest flavour innovations has been incredible, and we continue to see strong performance across the portfolio, with four of our variants currently sitting in the top 10 Rum SKUs in the grocery channel[2].
"This demonstrates a significant demand from consumers for our fast-growing product portfolio, so we're confident that Mango will also be a big hit amongst both our loyal fans, and newcomers to the category who are on the lookout for tasty and refreshing drinks".
The new Mango bottle boasts the distinctive Dead Man's Fingers branding and bold colour palette, which is guaranteed to stand out on-shelf. It joins Dead Man's Fingers Lime, Raspberry, Passionfruit, Hazelnut, Pineapple, Coconut, Coffee, Hemp, as well as the original Spiced Rum.  Available in Tesco this week, the Mango variant will retail at a RSP of £22 for a 70cl bottle, with a 37.5% ABV.
– ENDS –
[1] Delivering £3m YOY – Source: Nielsen │ Grocery Multiples │ Total Rum │ MAT to 18.04.20
[2] Grocery Value ROS, 4 weeks to 08.08.20 (DMF Passionfruit no.5, DMF Raspberry no.6, DMF Lime no. 7, DMF Spiced no. 9, DMF Pineapple no.13)
← BACK TO ALL ARTICLES